Introduction
In the rapidly evolving world of stock markets, staying ahead of the curve requires more than just traditional financial metrics. It demands a comprehensive understanding of a company's performance, latest news, and future prospects. This is where artificial intelligence (AI) and alternative data come into play, providing investors with a more holistic view of a company's potential.
In this article, we delve into the world of Pfizer Inc. (PFE), a leading player in the global pharmaceutical industry, using AI-powered insights and alternative data provided by FinBrain Technologies. From the company's background and recent stock performance to the latest news and AI-generated forecasts, we'll provide a comprehensive analysis of PFE, helping you make more informed investment decisions.
About Pfizer Inc.
Pfizer Inc. is a renowned multinational pharmaceutical and biotechnology corporation, founded in 1849 by two German entrepreneurs, Charles Pfizer and Charles F. Erhart. The company is headquartered in Manhattan, New York City. Pfizer operates in the healthcare sector, providing a wide array of products and services, including innovative medicines, vaccines, and health products for consumers and animals.
As of 2023, Pfizer employs approximately 83,000 people, contributing to its status as one of the world's largest pharmaceutical companies.
Pfizer's Stock Performance and Financials
As of May 2023, Pfizer's Year-to-Date (YTD) stock performance shows a decline of 28.24%. The company's Price to Earnings (P/E) ratio stands at 7.24, suggesting that the stock may be undervalued compared to its earnings.
Pfizer is also known for its consistent dividend payments, offering an attractive yield for income-focused investors. The company's annual dividend yield is 4.46%, with a quarterly dividend amount of $0.41 per share.
Latest News and Impact on Pfizer's Stock
Recently, Pfizer has been in the news for several reasons. The company announced a $43 billion acquisition of Seagen, a move that could potentially diversify its product portfolio and increase its market share in the pharmaceutical industry. Additionally, Pfizer has made its medicines available on a non-profit basis to poorer countries, demonstrating its commitment to global health.
In terms of COVID-19 response, Pfizer has received approval in Japan for its COVID-19 oral pills amid surging infections. This development could potentially boost Pfizer's global presence and profitability, given the ongoing demand for effective COVID-19 treatments.
However, it's important to note that news sentiment score for Pfizer has turned negative since May 17, 2023, which could potentially impact the stock's performance in the short term.
PFE Stock Forecast and Performance
FinBrain Technologies, a leading provider of AI stock forecasts and alternative financial data, had posted a 10-day ahead prediction for PFE on its PFE forecasts page on May 8, 2023. The forecast accuracy was remarkable, with a Normalized Mean Squared Error (NMSE) of 0.550, indicating that the real price almost perfectly followed FinBrain's predictions.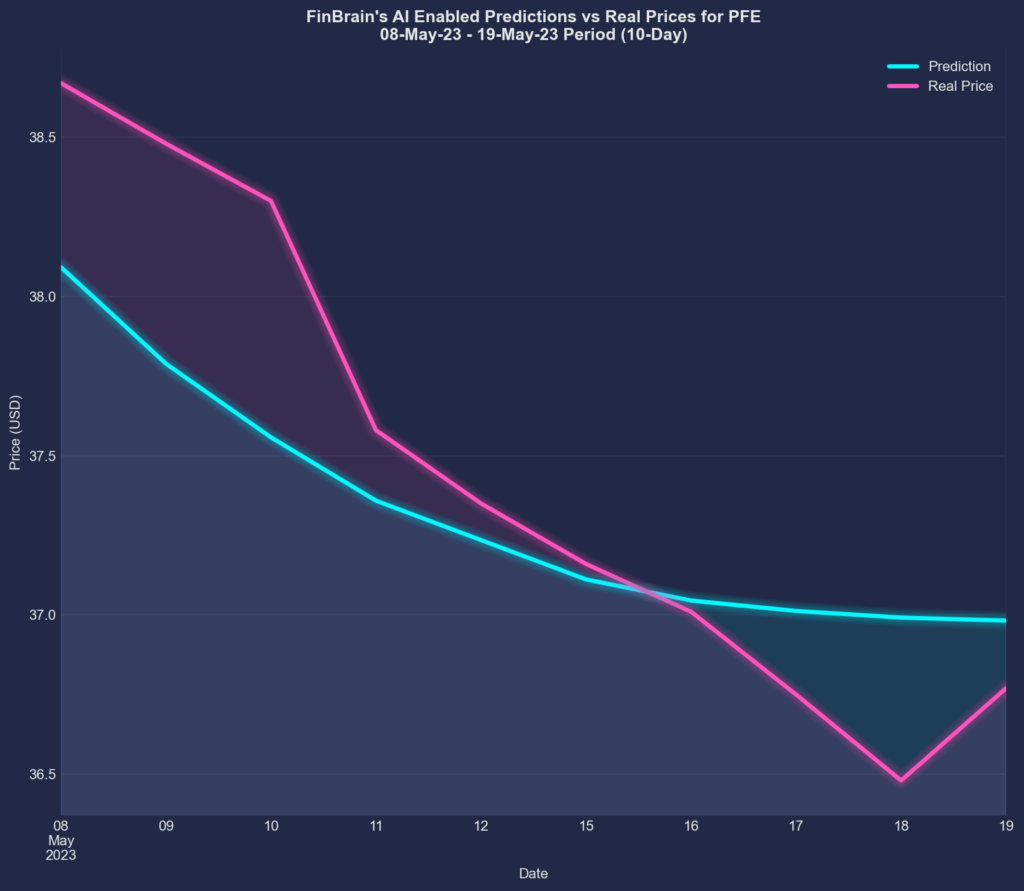 The PFE stock's last close price was $38.49 on May 5, 2023, before the forecasts were published. FinBrain's PFE price forecast for the end of the given period was $36.98, representing a -3.92% change. The real close price on the last day of the forecast period was $36.77, marking a -4.47% change. This shows that FinBrain's forecast was quite accurate, albeit slightly optimistic.
Alternative Data and Insights
Alternative data provides unique insights that traditional financial metrics may overlook. At FinBrain, we leverage this data to offer a more comprehensive view of a company's performance and potential. For Pfizer Inc., our alternative data analysis reveals some noteworthy trends and signals.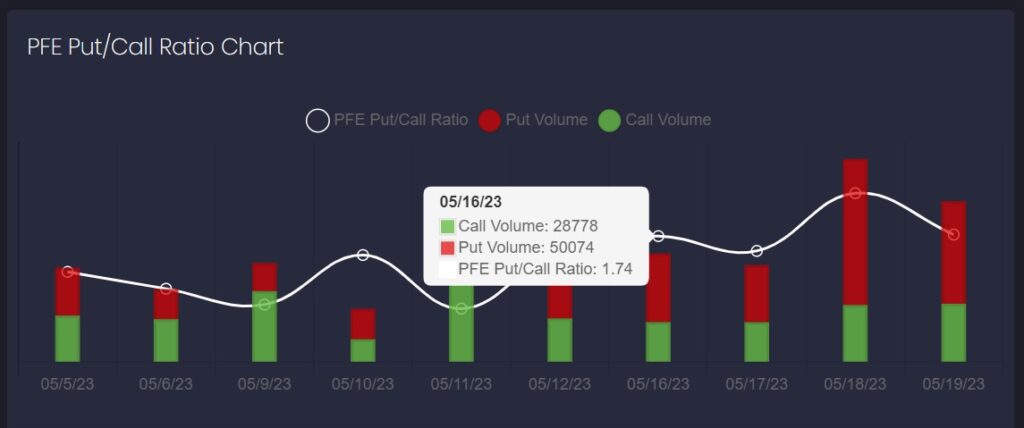 One of the key indicators we monitor is the options put-call ratio. This ratio represents the trading volume of put options to call options. A ratio above 1 typically suggests bearish sentiment among options traders, as it indicates more traders are betting on a price decrease than an increase. For the past two weeks, the options put-call ratio for Pfizer has been above 1, signaling potential bearish sentiment for PFE stock.
Another crucial piece of alternative data is the news sentiment score. This score is derived from AI/NLP algorithms analyzing news from 20+ major financial news sources. The sentiment score can provide a quick snapshot of the overall market sentiment towards a company. For Pfizer, the news sentiment score has turned negative since May 17, 2023. This negative sentiment could potentially impact the stock's performance in the short term.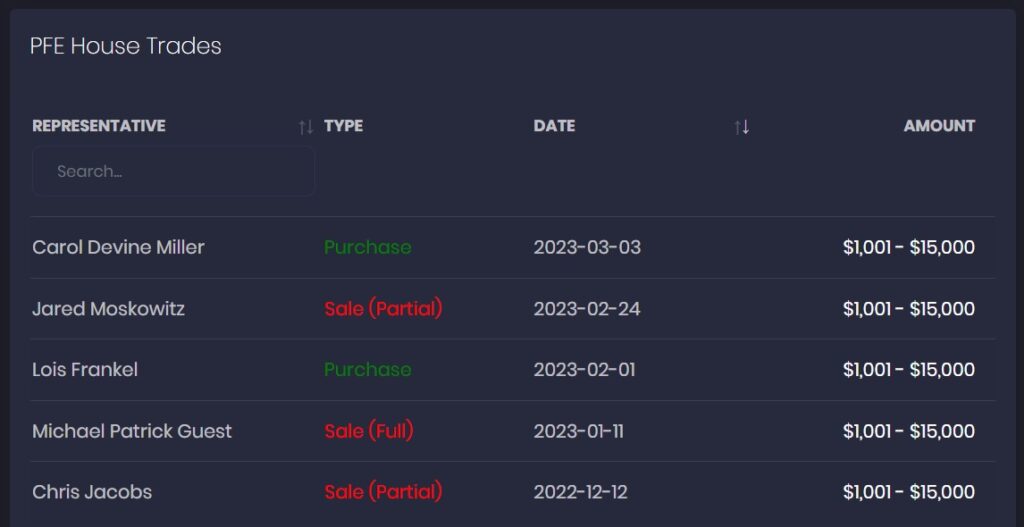 It's important to note that while these alternative data points provide valuable insights, they should be used in conjunction with other financial metrics and market analysis for a more holistic understanding of a company's performance and potential.
About FinBrain Technologies
FinBrain Technologies is a pioneer in AI-assisted and data-driven investing. We provide AI stock predictions and alternative datasets for thousands of US & World Stocks, ETFs, Index & Commodity Futures on a daily basis.
Our services, accessible via FinBrain Terminal and FinBrain API, include:
AI Generated Future Price Predictions: We analyze massive amounts of price, technical, and alternative data daily using deep neural networks.
Company Daily Technical Outlook Reports: These reports include company technical status, top holders, earnings and revenue estimates, analyst recommendations, and sentiment scores.
News & Sentiment Analysis Data: We provide sentiment data based on news from 20+ major financial news sources, analyzed and scored by AI/NLP algorithms.
US House & Senate Trades: We track trades taken by US Representatives and Senators, as their trades can yield decent returns due to their access to information before the markets.
Company Insider Transactions: We provide data on trades taken by company insiders, including transaction types, number of shares, and dollar amounts.
Options Put-Call Ratios: We provide the latest traded put-call option contract volumes and ratios for bullish/bearish signals.
Mobile App Scores: We offer a glimpse of how happy a company's app users are, which can be a leading indicator to forecast the performance of a company.
Most Popular Tickers on Reddit: We continuously track what's been trending on the Internet's largest retail trading community via our WallStreetBets tracker.
Our AI stock forecasts have been successful in predicting the price movements of various stocks, as evidenced by our JNJ, AMZN, TSLA, S&P500, AAPL, and AMZN forecasts.
To learn more about how FinBrain can help you maximize your investment returns, visit our website and register today.
FinBrain Technologies
Twitter • LinkedIn • Instagram • Facebook
99 Wall St. Suite #2023, New York, NY 10005