Introduction
In this comprehensive blog post, we delve into the world of Johnson & Johnson (JNJ), a leading healthcare products company. We'll explore the company's history, its current operations, and its stock performance. We'll also take a look at the latest news headlines about the company and provide a detailed forecast for JNJ stock based on FinBrain Technologies' AI-driven tools. Finally, we'll introduce you to the wide range of services offered by FinBrain, a company at the forefront of AI-assisted and data-driven investing. Whether you're an individual investor or part of a data-driven fund, this post will provide valuable insights to inform your investment decisions.
About Johnson & Johnson
Founded in 1886, Johnson & Johnson (JNJ) is a diversified healthcare products company. The company operates through three segments: Consumer Health, Pharmaceutical, and MedTech. Its primary focus is on products related to human health and well-being.
The Consumer Health segment includes a range of products focused on personal healthcare used in the skin health/beauty, over-the-counter medicines, baby care, oral care, women's health, and wound care markets. The Pharmaceutical segment is focused on six therapeutic areas: Immunology, Infectious Diseases, Neuroscience, Oncology, Cardiovascular and Metabolism, and Pulmonary Hypertension. The MedTech segment includes a range of products used in the interventional solutions, orthopaedics, surgery, and vision fields.
Johnson & Johnson is headquartered in New Brunswick, NJ, and operates in the United States, Europe, Western Hemisphere (excluding the United States), and Africa, Asia, and Pacific.
Employee Count and Stock Performance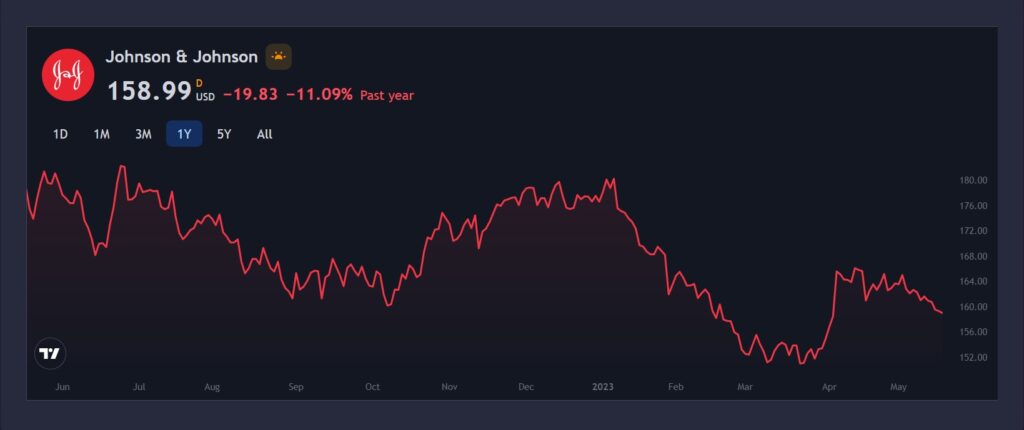 As of 2023, Johnson & Johnson employs approximately 132,200 people worldwide. The company's stock performance has been steady, with a YTD performance showing resilience in the face of market volatility. For the most accurate and up-to-date information on JNJ's stock performance, visit the JNJ page on FinBrain Terminal.
Latest News on Johnson & Johnson
There have been several significant news headlines about Johnson & Johnson recently. On May 17, 2023, AstraZeneca's Tagrisso, a chemo combination, showed promise in a lung cancer trial. On May 16, 2023, it was reported that J&J's proposed talc settlement would pay $400 million to US state AGs. For more news and updates about Johnson & Johnson, keep an eye on major financial news sources.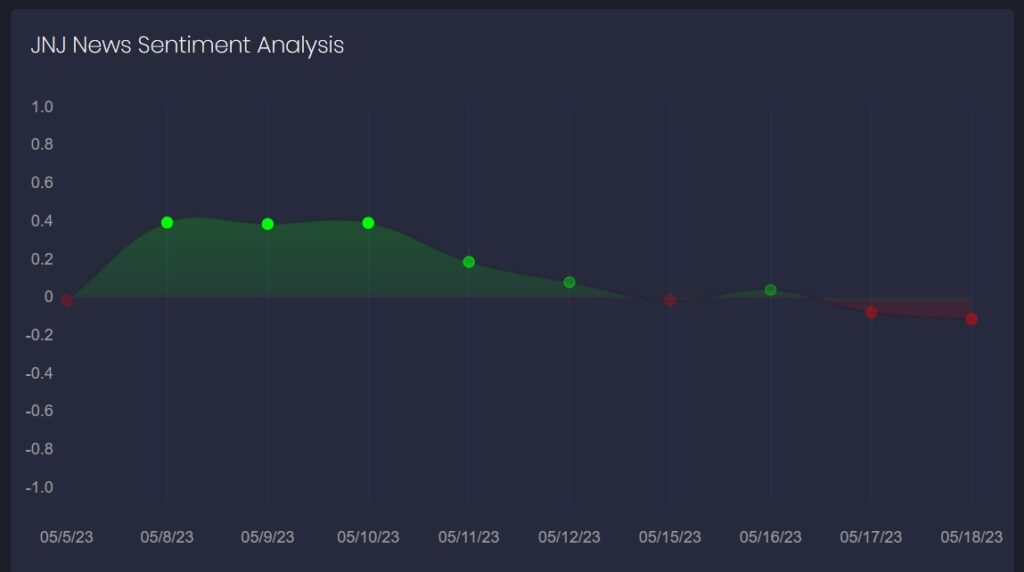 FinBrain collects and analyzes news headlines from 20+ news sources on a daily basis using cutting edge NLP algorithms. Each day, the overall sentiment score is calculated for every single stock listed under the US stock market, and the results are published on FinBrain Terminal. FinBrain's users can also access the historical news sentiment scores for 4500+ US stocks through FinBrain API.
JNJ Stock Forecast
According to the FinBrain Terminal's JNJ forecasts page, the 10-day ahead predictions for JNJ between 2023-05-04 – 2023-05-17 showed a Normalized Mean Squared Error (NMSE) of 0.750, indicating a remarkable forecast accuracy as the real price almost perfectly followed FinBrain's predictions.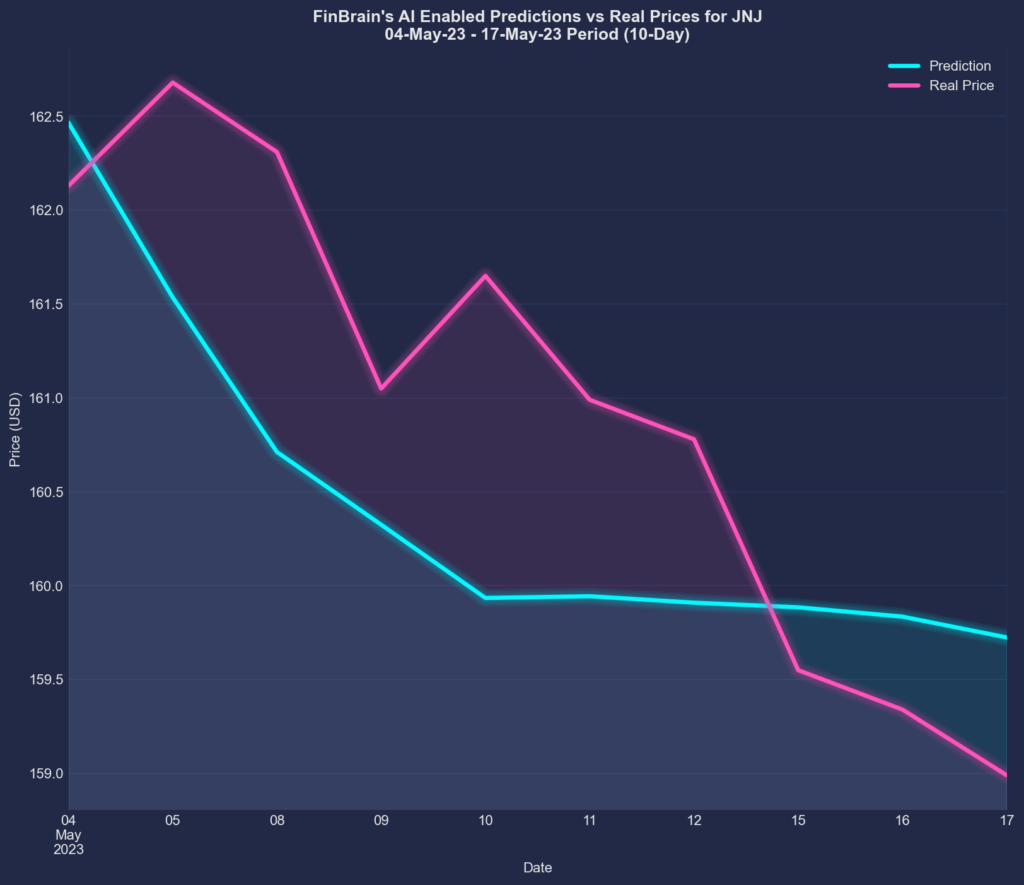 The JNJ stock last close price on 2023-05-03 before the forecasts were published, was $162.87. FinBrain's JNJ price forecast for the end of the given period was $159.72 (-1.93%), while the real close price on that day was $158.99 (-2.38%). This means that FinBrain forecasted a -1.93% change in JNJ stock price for the given period, while the real price change was -2.38%.
About FinBrain Technologies
FinBrain Technologies provides AI stock forecasts and Alternative Financial Data such as News Sentiment Analysis, Mobile App Score Ratings, US Congress Members' trades, Option Put-Call ratios, company insider transactions, and much more. Our company leverages the power of AI-assisted and data-driven investing that can help individual investors in maximizing their investment returns.
We provide traders and investors from all around the world with AI stock predictions and alternative datasets for thousands of US&World Stocks, ETFs, Index&Commodity Futures on a daily basis through our FinBrain Terminal and FinBrain API.
For more information and toregister, visit FinBrain's website.
FinBrain's Services
At FinBrain, we offer a variety of services to our customers:
AI Generated Future Price Predictions: We collect and analyze massive amounts of price, technical, and alternative data daily using deep neural networks.
Company Daily Technical Outlook Reports: These reports include company technical status, top holders, earnings and revenue estimates, analyst recommendations, and sentiment scores.
News & Sentiment Analysis Data: We provide sentiment data based on the news collected from 20+ major financial news sources, analyzed and scored by AI/NLP algorithms.
US House & Senate Trades: We track trades taken by US Representatives and Senators, including stock buys/sells and corresponding amounts.
Company Insider Transactions: We monitor trades taken by the company insiders, including transaction types, number of shares, and dollar amounts.
Options Put-Call Ratios: We provide the latest traded put-call option contract volumes and ratios for bullish/bearish signals.
Mobile App Scores: We offer a glimpse of how happy a company's app users are, which can be a leading indicator to forecast the performance of a company.
Most Popular Tickers on Reddit: We continuously track what's been trending on the Internet's largest retail trading community through our WallStreetBets tracker.
For successful examples of AI stock forecasts, check out our blog posts on TSLA, S&P500, AAPL, and AMZN.
We also offer a FinBrain Algorithmic Trading bot that can trade 24/7 and can benefit from the volatility in the crypto markets.
Conclusion
Whether you're an individual investor or a data-driven fund, FinBrain Technologies provides the tools and insights you need to make informed investment decisions. From AI-generated future price predictions to sentiment analysis data, we offer a comprehensive suite of services designed to help you maximize your investment returns.
For more information about our services and to see how we can help you, visit FinBrain's website today.
FinBrain Technologies
Twitter • LinkedIn • Instagram • Facebook
99 Wall St. Suite #2023, New York, NY 10005